Vol 1 No 1 (2020): February
Study Of Islamic Studies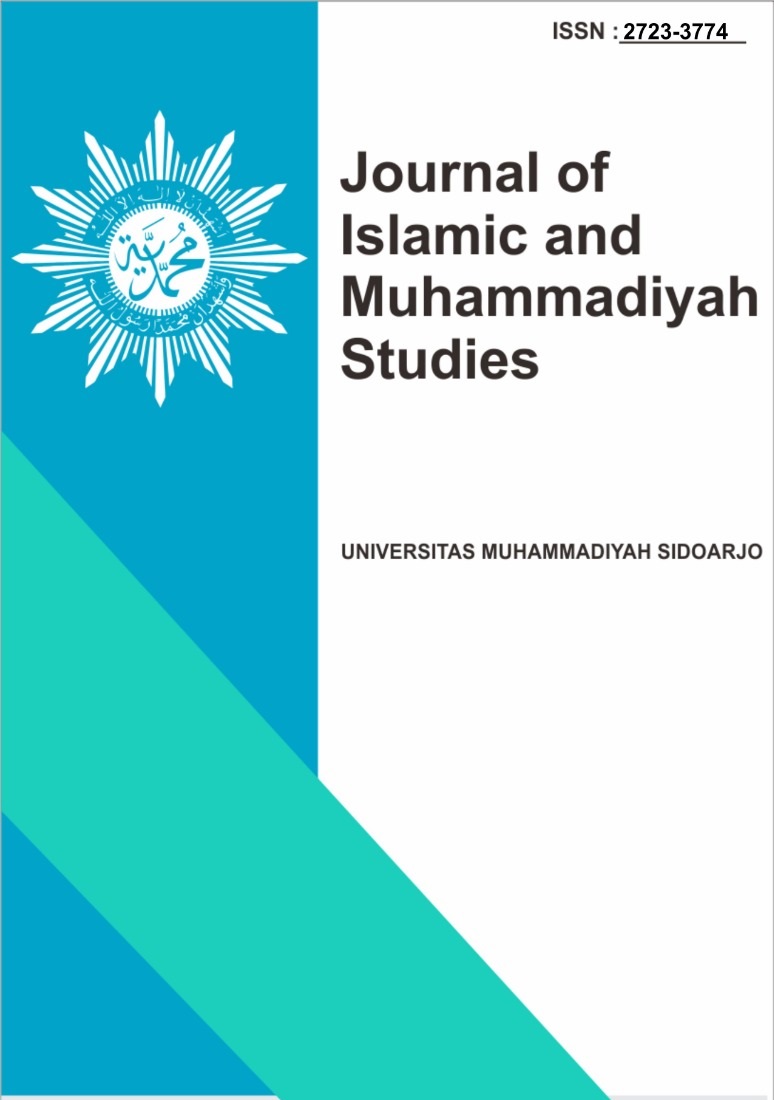 Picture in here are illustration from public domain image or provided by the author, as part of their works
Published
February 15, 2020
Keywords
Internalization

,

Islamic Values

,

Learning Activity
How to Cite
Nihayati, N., & Ponandi, O. (2020). Internalisasi Nilai-nilai Al-Islam dan Kemuhammadiyahan Dalam Aktivitas Belajar. Journal of Islamic and Muhammadiyah Studies, 1(1), 15-19. Retrieved from https://jims.umsida.ac.id/index.php/jims/article/view/224
Copyright (c) 2020 Nihayati Nihayati, Ogi Ponandi
This work is licensed under a Creative Commons Attribution 4.0 International License.
Abstract
This study aims to describe the implementation of internalization of Islamic values in learn- ing activities in the Mathematics Education program FKIP University Of Muhammadiyah Pringsewu Lampung. The type of research is descriptive research, subject is lecturer of Mathematics Education program, data collection technique is observation and data anal- ysis using qualitative descriptive with percentage. The result of this research is the lecturer in internalizing the moral value of Allah SWT belongs to the category of Very Good and the lecturer in internalizing the personal morals including the Good category, with the process done through 3 stages: transformation stage, transaction and value transinternalisasi by using some techniques that is modeling, disciplinary coaching and motivation in learning activities.
References
Alam, L. (2016). Internalisasi Nilai-Nilai Pendidikan Islam Dalam Perpendidikan Tinggi Umum Melalui Lembaga Dakwah Kampus. Jurnal Pendidikan Islam 1.
Ali, M. (2014). Membedah tujuan pendidikan muhammadiyah. Jurnal Profetika 17, 43–56.
Artika, D. and dkk (2017). Upaya Pendidik Memberikan Motivasi Belajar Siswa Dalam Pembelajaran IPS Di Sekolah Dasar Negeri Unggul Lampeunerut Aceh Besar 2, 150– 155.
dan Kemuhammadiyahan, T. P. P. A.-I. (2013). Pendidikan Al-Islam dan Kemuhammadiyahan Perpendidikan Tinggi Muhammadiyah. (Yogyakarta: Majelis Pendidikan Tinggi PP muhammadiyah).
Ilyas, Y. (2009). Kuliah Aqidah Islam (Yogyakarta: Lembaga Pengkajiandan Pengamalan Islam (LPPI)).
Mulyasa, E. (2011). Manajemen Pendidikan Karakter (Bandung: Rosdakarya).
Murdiono, M. (2010). Strategi Internalisasi Nilai-Nilai Moral Religius Dalam Proses Pembelajaran Di Perpendidikan Tinggi (Yogyakarta: Cakrawala Pendidikan).
Ridwan (2010). Belajar Mudah Penelitian Guru-Karyawan Peneliti Pemula (Bandung: Alfabeta).
Rohman, A. (2012). Pembiasaan Sebagai Basis Penanaman Nilai-Nilai Akhlak Remaja. Jurnal Nadwa 6.
Sardiman, A. M. (2011). Interaksi dan motivasi Belajar men- gajar (Jakarta: Rajawali Press).